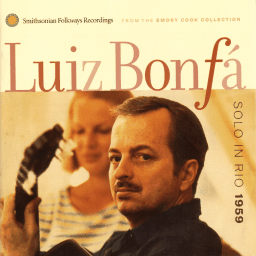 SOLO IN RIO 1959 (Smithsonian Folkways SFW CD 40483)
Released in 2005 as the re-issue CD of "o violao de Luiz BONFA" (Cook 1134) with adding 14 tracks. Recorded in 1959. Bonfá's solo guitar can be heard in all tunes:
Pernambuco
Night and Day
Shearing
Calypso Minor
Bonfabuloso
Luzes do Rio
Amor sem Adeus
Seringueiro
Chopin
Na Baixa do Sapateiro
Murder
A Brazilian in New York
Prelude to Adventure in Space
Tenderly
Blue Madrid
Fanfarra
Personnel: Luiz Bonfá (guitar, vocal).