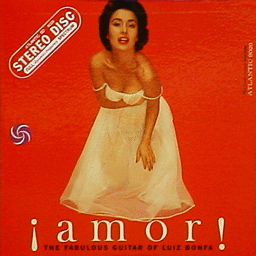 ¡amor! (Atlantic SD 8028)
Recorded in 1959. Bonfá's guitar can be heard in all tunes:
BRASILIA
I'LL REMEMBER APRIL
LONELY LAMENT
CARNIVAL
GEORGE BACK IN TOWN
BLUE MADRID
ISLAND OF TRINDADE
MARAJO
NELLY
YESTERDAYS
ARABESQUE
Personnel: Luiz Bonfá (guitar), Don Elliott (mellophone, vibraphone, triangle), Tommy Lopez (bongo, conga), and Ralph Freundlich (flute).

"¡amor!" (Atlantic 8028) is the monaural version of this album. All tunes in this album can be heard in the reissue album "¡amor!" (Collectables COL-CD-6160). "LUIZ BONFA Y SU GUITARRA" (Atlantic 66012) is the Argentine version of this album. "LONELY LAMENT", "CARNIVAL", "BLUE MADRID", "MARAJO", "INDIAN DANCE", "PRELUDIO", and "BAGPIPES" can be heard in "CD2" of complation 3-CD set "BRAZILIAN GUITAR MASTER" (Golden Stars GSS 5660).