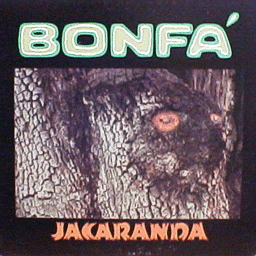 JACARANDA (Ranwood R-8112)
Recorded in January 1973. Bonfá's guitar can be heard in all tunes:
APACHE TALK
JACARANDA
YOU OR NOT TO BE
STRANGE MESSAGE
DON QUIXOTE
SONG THOUGHTS
DANSE V
EMPTY ROOM
SUN FLOWER
Personnel: Luiz Bonfá (guitar, vocal), Eumir Deodato (piano, electric piano, keyboards), John Wood (electric piano), Stanley Clarke (electric bass), Mark Drury (bass), Idris Muhammad (drums), Richard O'Connell (drums), Airto Moreira (percussion), Ray Barretto (conga), John Tropea (electric guitar), Sonny Boyer (tenor sax), Phil Bodner (flute, oboe, english horn, clarinet), Romeo Penque (flute, bass clarinet, baritone sax), Jerry Dodgion (flute, alto sax), Randy Brecker (trumpet, flugelhorn), Burt Collins (trumpet), John Frosk (trumpet), Marky Markowitz (trumpet), Marvin Stamm (trumpet, flugelhorn), Wayne Andre (trombone), Garnett Brown (trombone), Bill Watrous (trombone), Tony Studd (bass trombone), Jim Buffington (french horn), Peter Gordon (french horn), Harry Lookofsky (violin), Harry Cykman (violin), Max Ellen (violin), Paul Gershman (violin), Emanuel Green (violin), Harry Katzman (violin), Harold Kohon (violin), Joe Malin (violin), David Nadien (violin), Gene Orloff (violin), Elliot Rosoff (violin), Irving Spice (violin), Alfred Brown (viola), Harold Coletta (viola), Selwart Clark (viola), Emanuel Vardi (viola), Charles McCracken (cello), George Ricci (cello), Alan Shulman (cello), Gloria Lanzarone (cello), Alvin Brehm (arco bass), Russell Savakus (arco bass), Sonia Burnier (vocal), and Maria Helena Toledo (vocal).

"JACARAND&Aacute" (Som Livre SSIGI 5026), "JACARANDA" (Victor SMJ-6014), and "TODO O NADA" (Vaiven 5002) are Brazilian, Japanese, and Argentine versions of this album, respectively. "JACARAND&Aacute" (Bonfá Production BON 001) is Brazilian reissue CD of this album, in which the order of the tunes is changed as Bonfá originally intended. Five tunes, "JACARANDA", "GENTLE RAIN", "STRANGE MESSAGE", "DON QUIXOTE", and "SONG THOUGHTS", can be heard in the Brazilian compilation album "A ARTE DO ENCONTRO 2" (RGE 310.6002). Two tunes, "APACHE TALK" and "JACARANDA", can be heard in the Brazilian compilation 33RPM "ROSINHA e BONFÁ numa boa" (Som Livre 402.7007).