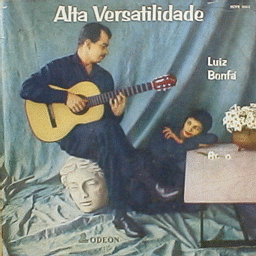 Alta Versatilidade (Odeon MOFB 3003)
Recorded in 1957. Bonfá's guitar can be heard in all tunes:
MONIQUE
TENDERLY
SERENATA
MAMBOLERO
CAJITA DE MÚSICA
OVER THE RAINBOW
GARÔTO
CALLES DE ESPAÑA
"BRAZILIAN GUITAR" (Capitol T10134) is US version of this album. All tunes in this album can be heard in the Japanese compilation album "haunted guitar" (Toshiba-Odeon OP-8714) and the Brazilian compilation CD "GÊNIOS DO VIOLÃO" (EMI 837840 2). "BATUCADA", "SAMBOLERO", "TENDERLY", "XANGÔ", "GARÔTO", and "CANÇÃO DO OUTONO" can be heard in "CD1" of complation 3-CD set "BRAZILIAN GUITAR MASTER" (Golden Stars GSS 5660).