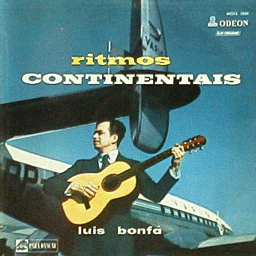 ritmos CONTINENTAIS (Odeon MOFB-3020)
Recorded in 1958. Bonfá's guitar can be heard in all tunes:
YOU WERE MEANT FOR ME
MISTER SANDMAN
WHISPERING
MY MELANCHOLY BABY
CHEEK TO CHEEK
SWEET SUE, JUST YOU
FRENESI
QUIEREME MUCHO
QUIZAS QUIZAS
SPEAK LOW
AURORA
CAI, CAI
MULHÉ RENDEIRA
NÃO TENHO LÁGRIMAS
MORENA BÔCA DE OURO
VEREDA TROPICAL
MELODIANDO
ECLIPSE
NA BAIXA DO SAPATEIRO
SWINGING IN MADRID
All tunes excluding "AURORA", "MULHÉ RENDEIRA", "MORENA BÔCA DE OURO" and "VEREDA TROPICAL" in this album can be heard in the reissue album "MELODIAS DAS AMÉRICAS" (Imperial IMP-30.009). "MELODIANDO", "ECLIPSE", and "NA BAIXA DO SAPATEIRO", can be heard in "CD2" of complation 3-CD set "BRAZILIAN GUITAR MASTER" (Golden Stars GSS 5660).