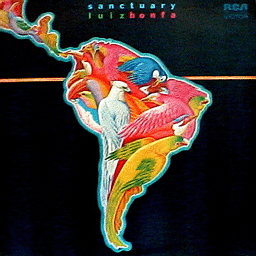 sanctuary (RCA LSP-4591)
Recorded in 1971. Bonfá's guitar can be heard in all tunes:
Sambataba
Xavante
On the Sand
Sanctuary
Tears of Delilah
Madrilena
Tijuca
Personnel: Luiz Bonfá (guitar), Gene Bertoncini (guitar), Eumir Deodato (piano, organ), Ron Carter (bass), Dom Um Romão (drums), Airto Moreira (percussion), Brenda Bryant (vocal), Margaret Branch (vocal), and Pat Smith (vocal).

"sanctuary" (RCA MIL/S-4091) is Mexico version of this album.