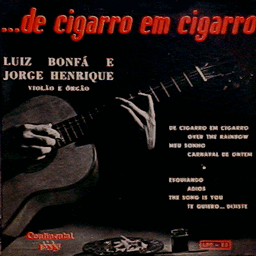 ...de cigarro em cigarro (Continental LPP-53)
Recorded in 1956 with Jorge Henrique. Bonfá's guitar can be heard in all tunes:
OVER THE RAINBOW
CARNAVAL DE ÔNTEM
ESQUIANDO
ADIÓS
THE SONG IS YOU
TE QUIERO... DIJISTE
Personnel: Luiz Bonfá (guitar), Jorge Henrique (organ), Eduardo Lincoln (bass), and João Stockler (drums).

All tunes in this album can be heard in UK compilation CD "guitar music of brazil" (El ACMEM115CD). "DE CIGARRO EM CIGARRO", "MEU SONHO", and "ESQUIANDO" can be heard in "CD1" of complation 3-CD set "BRAZILIAN GUITAR MASTER" (Golden Stars GSS 5660).