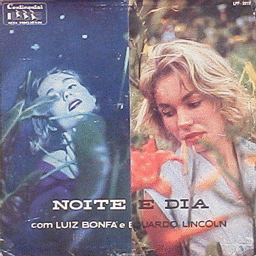 NOITE E DIA (Continental LPP-3018)
Recorded in 1956 with Eduardo Lincoln. Bonfá's guitar can be heard in all tunes:
ORACIÓN CARIBE
DANCING IN THE DARK
LAURA
QUE RESTE-TIL DE NOUS AMOUR
TIPI-TIPI-TIM
AGORA É CINZA
TRINIDAD
DOMINGO SINCOPADO
POINCIANA
NIGHT AND DAY
Personnel: Luiz Bonfá (guitar), Eduardo Lincoln (piano), Carlos Lyra (guitar), Luiz Marinho (bass), and João Stockler (drums).

All tunes in this album can be heard in the Brazilian reissue albums "PASSEIO NO RIO" (VASP 007-14) and "Ed Lincoln e Luiz Bonfá" (Discolar LPDS-32.027). "AGORA É CINZA", "TRINIDAD", and "PERDIDO DE AMOR" can be heard in UK compilation CD "guitar music of brazil" (El ACMEM115CD).