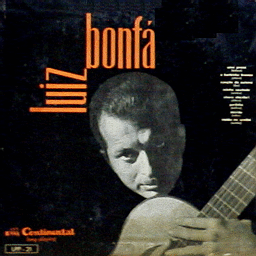 luiz bonfá (Continental LPP-21)
Recorded in 1955. Bonfá's guitar can be heard in all tunes:
O BARBINHA BRANCA
MINHA SAUDADE
CHORA CHORÃO!
PERFÍDIA
DÚVIDA
VIOLÃO NO SAMBA
Personnel: Luiz Bonfá (guitar), João Donato (accordion), Antônio Carlos Jobim (piano), Altamiro Carrilho (flute), Claudio (violin), Quinidio Teixeira (tenor sax), João Stockler (drums), Vidal (bass), and Galhardo (bass).

All tunes in this album can be heard in UK compilation CD "guitar music of brazil" (El ACMEM115CD). "UMA PRECE", "O BARBINHA BRANCA", "MINHA SAUDADE", and "PERFÍDA" can be heard in "CD1" of complation 3-CD set "BRAZILIAN GUITAR MASTER" (Golden Stars GSS 5660).