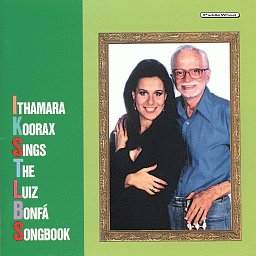 ITHAMARA KOORAX SINGS THE LUIZ BONFÁ SONGBOOK (Paddle Wheel KICP-503)
Recorded between February 1995 and January 1996 with Ithamara Koorax. Bonfá's guitar can be heard in:
AMOR SEM ADEUS
CORRENTEZA
VIDA
Personnel: Ithamara Koorax (vocal), Luiz Bonfá (guitar), Nelson Angelo (guitar), Shigeharu Sasago (guitar), Larry Coryell (guitar), Torcuato Mariano (guitar, keyboards), Eumir Deodato (keyboards), Paulo Malaguti (keyboards, percussion), Sadao Watanabe (alto sax), Jamil Joanes (bass), Ron Carter (bass), Carlos Bala (drums), Ivan Conti (drums), Sidinho Moreira (percussion), and Arnaldo DeSouteiro (percussion).

"Almost in love" (Imagem KP 333) is Brazilian version of this album. "CORRENTEZA" can be heard in Koorax's album "RIO VERMELHO" (Movieplay BS 280) and its Japanese version "RED RIVER" (Paddle Wheel KICP 497).