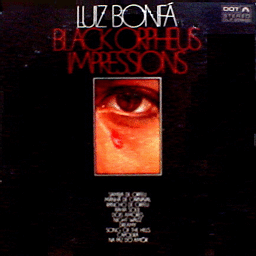 BLACK ORPHEUS IMPRESSIONS (Dot DLP 25848)
Recorded in 1968. Bonfá's guitar can be heard in all tunes:
DREAMY
CAPOEIRA
NIGHT WALTZ
SONG OF THE HILLS
DOIS AMORES
RIO WITH LOVE
BAHIA SOUL
Personnel: Luiz Bonfá (guitar, vocal), Eumir Deodato (piano, organ), Ron Carter (bass), Dom Um Romão (drums), Marvin Stamm (trumpet), and Maria Helena Toledo (vocal).

"BLACK ORPHEUS IMPRESSIONS" (Contour 2870 170) is UK version of this album. "SAMBA DE ORFEU" can be heard in the Japanese compilation album "GOLDEN LUIZ BONFÀ" (Dot SWG-7121).