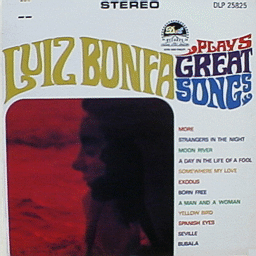 LUIZ BONFA PLAYS GREAT SONGS (Dot DLP 25825)
Recorded in 1967. Bonfá's guitar can be heard in all tunes:
BORN FREE
MOON RIVER
SPANISH EYES
STRANGERS IN THE NIGHT
BUBALA
THE EXODUS SONG
MORE
SOMEWHERE MY LOVE
YELLOW BIRD
SEVILLE
A MAN AND A WOMAN
"LUIZ BONFA PLAYS GREAT SONGS" (Dot DLP 3825) is the monaural version of this album. "Luiz Bonfa plays great songs" (World Record Club S/5280), "LUIZ BONFÁ PLAYS GREAT SONGS" (Dot SJET-8005), and "LUIZ BONFA Y SU GUITARRA" (Diana LPD-181) are Australian, Japanese, and Mexican versions of this album, respectively. All above tunes excluding "BUBALA" and "SEVILLE" can be heard in the Japanese compilation album "GOLDEN LUIZ BONFÀ" (Dot SWG-7121).