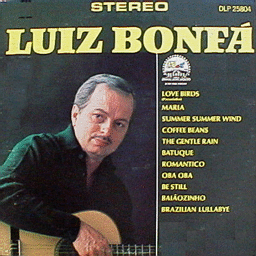 LUIZ BONFÁ (Dot DLP 25804)
Recorded in 1967. Bonfá's guitar can be heard in all tunes:
MARIA
COFFEE BEANS
BATUQUE
BAIÃOZINHO
BRAZILIAN LULLABYE
Personnel: Luiz Bonfá (guitar, vocal), Eumir Deodato (piano, organ, arrange), Ron Carter (bass), Dom Um Romão (drums, percussion), Maria Toledo (vocal), Steve Lawrence (vocal), Eydie Gorme (vocal), and Pat Kirby (vocal).

"LUIZ BONFÁ" (Dot DLP 3804) is the monaural version of this album.