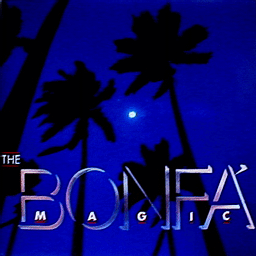 THE BONFÁ MAGIC (Caju 511.404-2)
Recorded in April 1991. Bonfá's guitar can be heard in all tunes:
RIO ACIMA
MAGIC PASSION
SUBTLE SAMBA
FAT TUESDAY'S THEME
RUTH'S WALTZ
SMOOTH DREAMS
SAMBA VARIATIONS
LOVE CHEMISTRY
APRIL IN PARIS
Personnel: Luiz Bonfá (guitar), Tavio Bonfá (guitar), Gene Bertoncini (guitar), Jota Moraes (keyboards), Sonia Burnier (keyboards), Marcio Montarroyos (flugelhorn), Nilson Matta (bass), Pascoal Meirelles (drums), Thiago DeMello (percussion), Eumir Deodato (percussion), and Arnaldo DeSouteiro (percussion).

"THE BONFÁ MAGIC" (Milestone MCD-9202-2) is USA version of this album.