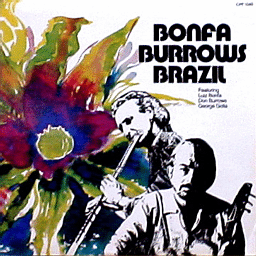 BONFA BURROWS BRAZIL (Cherry Pie CPF 1045)
Recorded in 1978 with Don Burrows. Bonfá's guitar can be heard in all tunes: Personnel: Don Burrows (flute, alto flute, alto sax, percussion, bamboo flute), Luiz Bonfá (guitar, vocal), George Golla (electric guitar, guitar), Paul Baker (bass), Doug Gallagher (conga drums, drums), Tony Ansell (piano), George Andre (bass, arrange), Jose Boto (drums), and Julian Lee (strings arrange).

"Brazil" (Jazzman JAZ 5020) is US version of this album. Two tunes, "MENINA FLOR" and "MORNING OF THE CARNIVAL", can be heard in "VOLUME FOUR 1980 - 1984" of compilation 5-CD set "DON BURROWS THE FIRST 50 YEARS" (ABC Music 4796742).