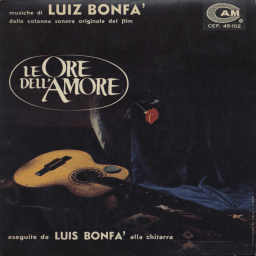 LE ORE DELL'AMORE (C.A.M. CEP. 45-102)
Recorded in 1962 as the soundtrack for Luciano Salce's film "Le Ore dell'Amore". Bonfá's guitar can be heard in all tunes:
Ilha de coral
Ao cair do sol
Maretta
"Ilha de coral" and "Ao cair do sol" are the same tracks with "ILHA DE CORAL" and "BOSSA NOVA CHA CHA", respectively, in the album "LUIZ BONFA Composer of Black Orpheus Plays and Sings BOSSA NOVA" (Verve V-8522).