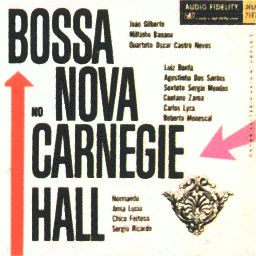 BOSSA NOVA NO CARNEGIE HALL (Audio Fidelity AFLP 2101)
Recorded on November 21, 1962. Bonfá's guitar can be heard in:

Personnel: Luiz Bonfá (guitar), Oscar Castro Neves (piano), Iko Castro Neves (bass), Roberto Pontes Dias (drums), Henri Wilcox (electric guitar), and Agostinho dos Santos (vocal).

"BOSSA NOVA at CARNEGIE HALL" (Audio Fidelity AFLP-82536) and "BOSSA NOVA at CARNEGIE HALL" (Ubatuqui UBCD 304) are the Brazilian and Spanish reissue of this album, respectively. Solo guitar version of "MANHÃ DE CARNAVAL" can be heard in the Spanish compilation CD "Sambolero" (Blue Moon BMCD 3059).